May 23, 2020 12:55 PM Central
AromaSharing LLC

Here is our second AromaSharing Vendor Spotlight email! If you missed the first one, find it
here.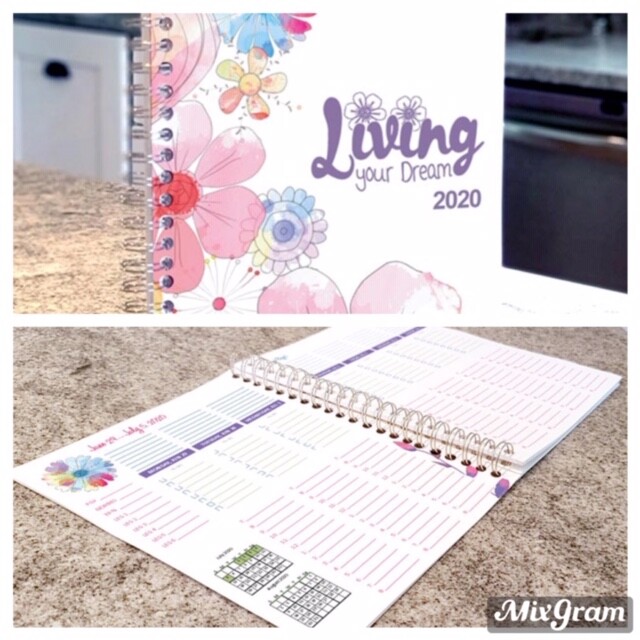 Living Your Dream Planner (Joyce Painter & Jamie Hyatt)
~If you want to change your life then change something you do daily.
Our "Living Your Dream" life and business planner offers you a tool for finding success in your daily routine and is specific to the Young Living Life.
~Experts say that writing down personal goals, corporate goals, and projects consistently, will serve you in accomplishing great things; writing leads to visualizing, planning, believing and acting on our thoughts.
~Our planner includes places for Project Action Plans; a Vision Board; Personal Growth; IPA's and Ranking Up; Essential Rewards; Month and Week-at-a-Glance; Contact Info; Stats by Month; Note pages and much more!
Find the best solutions for keeping on track as you participate in making your dreams come true.
All orders placed between June 4th - 12th will receive a "free" Contact-New Member- Follow-up-Incentive Card sample pack for the 6 or 12 month planner. Both are available for order June 4-17th.
Sue Kuhn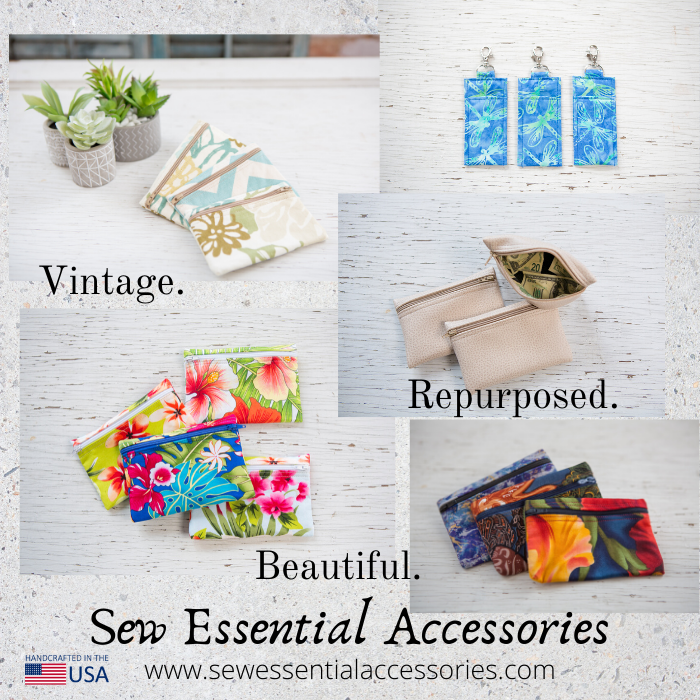 Pouches, hand sanitizer holders, lip balm holders and patent pending mini 101 kits available for purchase. All items designed, created and made by me in a smoke free and animal free environment. Many of the fabrics are vintage and repurposed reducing the carbon footprint!
The NEW mini 101 kits are a must for business builders. These handy kits can be taken with you wherever you go. You never know who will be interested in essential oils. These kits can hold all the items necessary to share all the good things from brochures, business cards to samples of essential oils. Versatile kits that let you decide what goes in them. Small enough to be carried alone or in a bag, back pack or tote! 3 different sizes to fit the needs of your business. You decide! (101 kit pictures not shown here)
Impression
s Printing and Marketing (IPM)
(Tammy Jackett)
Hello, I'm Tammy Jackett, owner/designer at IPM Publishing.
Our products: Informational Flyers, Membership Applications, Invitations and Follow-Up Postcards
We're offering two bundles, each with substantial savings!!!
Our Body Systems Flyer makes speaking about the body simple. These conversation starters make great
business cards!!! On the opposite side are the Three Ways to Use Your Oils. A convenient resource, our Make-N-Take/Diffuser Recipe flyer. Homemade hand cream, bath salt, air freshener blends and sixteen simple, fragrant diffuser recipes opposing sides. New Member Applications simplify the process of signing up members. Invitations should be inviting!!! Stand out from the social media crowd with personal invitations that are
eye-catching and make people want to attend your gathering. Show members you care & eliminate stress utilizing our Follow-Up Postcards. Five colorful designs say Thank-you, Happy Anniversary, etc.
Purchase individually!!! Bundle them!!! Use code AROMA2020, get 10% off, plus FREE shipping orders
over $40 in the U.S.!!!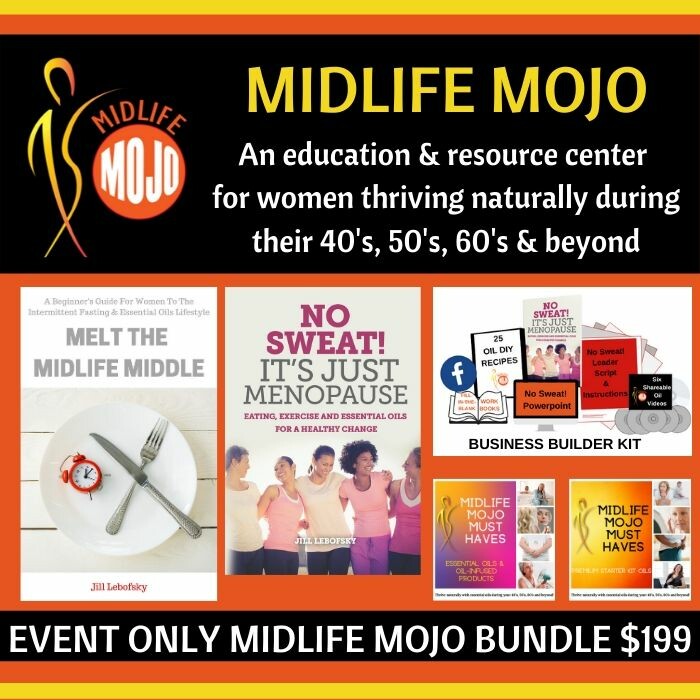 MIDLIFE MOJO
(Jill Lebofsky)
Midlife Mojo is an education, resource and support center for woman over 40 wanting to thrive naturally during her midlife years. The store offers three products for losing weight with Intermittent Fasting; the book "Melt The Midlife Middle: A Beginner's Guide To The Intermittent Fasting & Essential Oils Lifestyle", quarterly success journal/tracker and a digital "Getting Started With Intermittent Fasting" video series. Intermittent Fasting bundle is $75. Four other offered products are to teach and support pre & post-menopausal women experiencing the effects of hormonal changes. Products include the book "No Sweat! It's Just Menopause: Eating, Exercise & Essential Oils For A Healthy Change, a business builder kit based on the book, and 2 midlife & oils guides covering 12 Premium Starter Kit Oils and 12 non kit oils and oil infused products. No Sweat Bundle is $139. Get all 7 products with the Midlife Mojo Mega Bundle for $199.
My Oily
Gear and More (Shelly Wilcox)
My Oily Gear and More has special pricing on all shirts (Size Youth- 3X) and is offering FREE SHIPPING. We know you will enjoy our super soft high quality t-shirts, which will easily become your next favorite shirt! There are many styles and designs to choose from, such as our ever popular Valor t-shirt, also comes in a tank top, long sleeve t-shirt and sweatshirt. We have numerous other t-shirt designs, baseball shirts, ponytail hats and Oily Pads! Oily Pads (go under your oils and diffusers) come in multiple sizes, perfect for any diffuser, most are reversible, they're Useful and Beautiful. Check out our website and enjoy FREE U.S. SHIPPING during the Aromasharing event!
Stay tuned for more vendors next week!
Kathaleen May & Sandra Bolognia
AromaSharing Coordinators